Training Session Central India College of Law 2016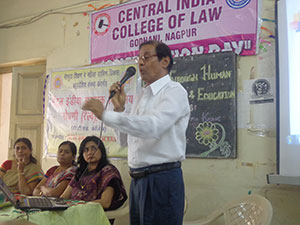 Recently we have arranged EIP Training Session on October 20, 2016 for selected senior student of LL.M. (Master of Law) and B.Ed. (Bachelor of Education) of Central India College of Law and Central India College of Education, This college is run by Mr. Anis Ahmed, Ex Minister of Education, Government of Maharashtra (who had inaugurated our 4th National Training Session on EIP)
Dr. Yasmin Siddique, Mr. Babar, Board member of Central India Education Institute, Dr. Sona Kumar, Principal, Central India College of Law, Dr. Swati Raut, Principal. Central Central India College of Education were prominent guest for the EIP Training.
This Institute is run my minatory community and students are mostly from Muslin community. Unfortunately, muslin students especially girls are lagging behind in education and need to be educated to bring them in main stream of the society. I was very much happy to arrange such training for Muslim students who take active part and asked many questions.
My presentation was based on principls of EIP and Articles of Human Rights . I request the students who are pursing their studies in Bachelor of Education to teach their students the important of Human Rights for self, society, country and world. I persuad the students of Master of law to study the Human Rights and apply in their profession, they can safe guard the human rights through their law profession.