Short report of EIP-India activity on International Human Rights Day 2014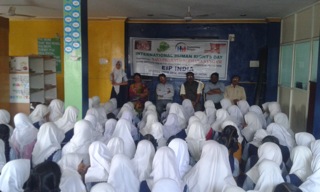 Human Rights training was arranged for the Senior High School girls students of M.P. Ideal School, Hyderabad, South India on 10 December 2014 on International Human Rights Day.
More than 90% students were from Muslim community studying in Senior High School level. Muslim girls/women are totally unaware of the Human rights . They are also lacking behind in education in India.
It is said that if you train one girl/women, you train family and future generation.
76 Senior High School girls students participated in one day training of EIP-India. They were informed the Universal Declarations of Human Rights, Need of Human Rights for peace, democracy and sustainable development as well as the Rights of Women.
After inauguration, students were provided the questionnaire. They were divided in small groups and given different task regarding Human Rights propagation in society and especially among women.
Mr. Ravi Kumar (He attended CIFEDHOP/ EIP training in Geneva), President Nav Bharat Nirman Sangh (New India Development Association) is a member of EIP-India, took active part in arranging EIP training in Hyderabad, South India.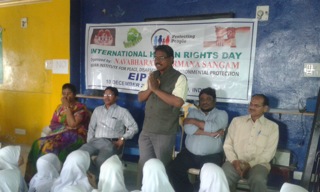 Following dignitaries addressed the girls students.
1) Ravi Kumar , President, New India Development Association
2) Mohammad Anwar, Chairman, M.A.Ideal Chain of low cost pvt. School. A.P.
3) Arfan Kadri, Chairman, Meher Educational Society
4) Sudhakar Rao, Secretary, Maratha Nav Yuwak Mandal
5) Mrs. Munnirosa Begam, Principal, M.A.Ideal Senior School, Hyderabad.